Rapid Asia recently undertook a study on behalf of Humanity United and The Freedom Fund to evaluate the electronic payment system adopted by the fishing sector in Thailand. Withholding of wages and illegal wage deductions was common practice in the past. In response, the Royal Thai Government mandated that all fishers should have a bank account in which to receive their wages. The study found that the system has helped to ensure that workers payments are more regular and more secure, but is that enough?
The electronic payment system may have contributed to higher minimum wage compliance, found to be 97 percent for fishers. Previous studies have shown far less compliance, often below 70 percent. In addition, it has become more difficult for employers to make illegal deductions as they need to transfer salaries into a bank account and those transactions can be verified. Illegal deductions used to be common place, up to one third of the worker's salary. Another benefit found was that salary frequency appears to have improved and nearly 100 percent of all fishers were paid at least on a monthly basis. This sits in stark contrast to the previous situation where many workers were paid a lump sum, effectively withholding their salary for several months.
Whilst these findings are encouraging, there was evidence of unintended consequences as a result of the new system. Prior to conducting the study there was anecdotal evidence that some employers would retain the ATM/bank card and use it to withdraw money on behalf of the worker. Employers argued this was necessary as most migrant workers were unable to use ATMs and needed assistance. Others argued that this was just an excuse employer used in order to maintain control of salary payments, in effect reverting to the old cash-based system.
 To test this, the study included a separate sample of migrant workers in the seafood production sector. This sector was not subject to the new regulation on electronic payments and served as a good comparison when looking at ATM/bank card control and ATM usage. In short, workers were asked two simple questions:
Who keeps the ATM/bank card?
Who normally uses the card to withdraw money?
The findings are shown in Figure 1 below and are quite extraordinary. Approximately 79 percent of the migrant workers in the seafood sector keep their own ATM/bank card and use it. In other words, they have full control of it. Only three percent were found to have no control of their ATM/bank card, meaning the employer kept it and used it on their behalf. The results for the fishing sector were remarkably different, where 21 percent had full control of their ATM/bank card but the majority (53 percent) had no control.
Figure 1.  Comparing ATM card control in the seafood and fishing sectors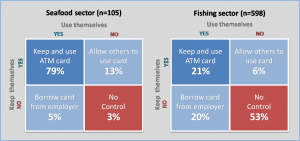 Further analysis found that fishers who keep their card display very similar behavior to those in the seafood sector. In contrast, when the employer keeps the ATM/bank card, fewer fishers know how to use an ATM and only 28 percent had actually used one. Logically, when fishers are not provided access to their bank cards there is limited opportunity for them to practice and learn how to use ATMs independently. This also means that fishers are vulnerable to economic abuses. The resulting recommendation is to improve labour inspections by including regular checks on whether workers have possession of and control over their ATM/bank card. The full report can be found here.
If you found this article useful, please remember to 'Like' and share on social media, and/or hit the 'Follow' button to never miss an article. You may also want to read this article: Pushing for electronic payment in the Thai fishing industry
About the author:  Daniel Lindgren is the Founder of Rapid Asia Co., Ltd., a management consultancy firm based in Bangkok that specializes in evaluations for programs, projects, social marketing campaigns and other social development initiatives. Learn more about our work on: www.rapid–asia.com.