Event's date and time: January 20 @ 5:00 pm – 6:30 pm
In 2017 ILO, IOM, and Rapid Asia conducted a study to obtain a better understanding of the factors that shape migration outcomes in Southeast Asia. The study interviewed over 1800 returnee migrant workers from Cambodia, Viet Nam, Lao PDR and Myanmar who had been employed in Thailand or Malaysia. The findings are published in the report Risks and rewards: Outcomes of labour migration in South-East Asia released for International Migrants Day on 18 December 2017.
As the report explains, the research team developed a Migration Outcomes Index (MOI) to measure changes in the lives of migrant workers from before to after their migration. The Index broadens the way migration outcomes are measured by incorporating both social and economic elements. It represents a break not only from the narrow focus on counting remittances but also from the human trafficking paradigm that is very dominant in SE Asia. The MOI scores are calculated at the individual respondent level and indexed on a range of 0-100 to provide an accessible benchmark against which to measure progress, the changes from before migration to after. The study also identifies the need to increase access to skills development opportunities for migrant workers. Migrants who increased the skill level of their employment from before migration to thereafter had much better long-term outcomes.
Through improved livelihoods, labor migration can have a lasting impact on poverty reduction within ASEAN. The report calls for shifting the focus of labor migration governance in ASEAN towards a more migrant-centered approach. Programs should be directed at increasing the number of migrant workers who have a holistically beneficial labor migration experience, rather than simply expanding national remittance accounts.
To further explore these ideas, on 20 January 2018 at 5 PM – 6.30 PM, SEA Junction in collaboration with ILO and Rapid Asia will hold a public discussion of the "Risks and Rewards" report. Two of the authors of the report namely Benjamin Harkins, technical officer of ILO Regional Office for Asia and the Pacific and Daniel Lindgren, founder at Rapid Asia, Ltd, and founding partner of SEA-Junction, and an independent migration expert Emeritus Professor Supang Chantavanich  of Chulalongkorn University will make brief presentations followed by open interaction with the participants. Substantive as well as methodological issues will be highlighted and so will possible intervention and policy options based on the findings.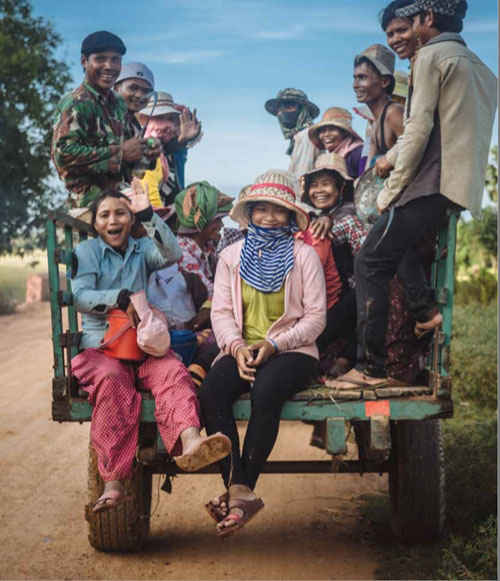 Speakers' Profiles
Benjamin Harkins is the Technical Officer (Research and M&E) for the Tripartite Action to Enhance the Contribution of Labour Migration to Growth and Development in ASEAN (TRIANGLE II project). In this role, his work has focused on enhancing the evidence base for labor migration governance within the region, enhancing results-based management and increasing the rigor of the project's monitoring and evaluation system. Prior to joining the ILO Regional Office for Asia and the Pacific, he worked for four years within Southeast Asia on a broad range of migration issues, including as Independent Evaluator for the International Organization for Migration, Senior Researcher for the Asian Research Center for Migration, Migration Programme Advisor for the Mekong Institute and Coordination Officer for Première Urgence Internationale. He holds a BA in Cultural Studies from the New College of California and a MA in International Development Studies from Chulalongkorn University.
Daniel Lindgren is the founder of Rapid Asia, a social development consulting firm based in Bangkok. Since being founded in 2010, Rapid Asia has carried out multi country and large scale national studies in over 20 countries across Asia and beyond, working with a number of high profile donors, UN agencies and international NGOs. Rapid Asia has in depth expertise in several thematic areas such as health, migration, disaster relief, education, human trafficking, climate change, micro finance and food security. Daniel is originally from Sweden and has lived, worked and studied on four continents including Europe, US, Australia and Asia. He came to Thailand in early 2008 following a 5-year posting in Indonesia. As a member or several regional networks, Daniel is an active member of the social development community with a passion for public speaking and writing blogs. He is also a Board Member of the Thai Swedish Chamber of Commerce 
Supang Chantavanich is Emeritus Professor of Sociology at Chulalongkorn University. Her research at the Asian Research Center for Migration (ARCM) focuses on refugee, migrant worker, and human trafficking issues. Her work on cross border issues is primarily concerned with questions of gender, health, education and the protection of the rights of displaced persons. Previously, she was the first chairperson of the Asia Pacific Migration Research Network (APMRN) during 1998-2002 and a member of the Advisory Committee of the International Refugee.
Full Report: Risks and rewards: Outcomes of labour migration in South-East Asia 
NB: The event is free, but donations are most welcome 
For information/reservation for our events please email southeastasiajunction@gmail.com or phone/wa: +66970024140