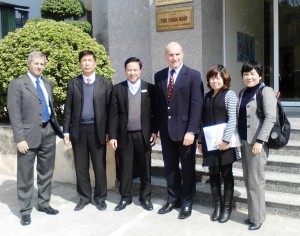 Rapid Asia together with representatives from the Department of Agriculture and WSPA in Hanoi. 
The Livestock Emergency Guidelines and Standards (LEGS), has been developed by WSPA to be an international standard for improving the quality of livestock programs in connection with humanitarian disasters. The Ministry of Agriculture in Vietnam is adopting LEGS approach to be part of their national standard for disaster relief efforts. Rapid Asia has been selected to carry out a thorough evaluation of the LEGS approach, both in terms of how effectively it is being disseminated and incorporated as part of the provincial disaster plans and impact in terms of reducing mortality and morbidity rates among livestock following a disaster.
Seen in the picture from the left: Mr. Daniel Lindgren Rapid Asia, Mr. Hoang Kim Giao former Director DLP, Mr Van current Director DLP, Mr. Ian Dacre AP Director WSPA, Ms. Pham Kim Dung Head of Finance DLP, Ms. Tam Ha Cam Project Manager WSPA.