Event date: Wednesday, 4th November 2020
Event time: 4:00 PM – 5:30 PM
Location: SEA Junction, Room 408, 4th Floor, SEA Junction
Available on Facebook live streaming at: https://www.facebook.com/SEA-Junction-470374673153248 (FB Page: SEA-Junction)
Organizers: Rapid Asia, ILO & SEA Junction
** Please reserve your seats by email southeastasiajunction@gmail.com, phone/wa: +6697 002 4140 (Limited seats available)
On Wednesday, 4th November 2020 at 4 PM – 5:30 PM, SEA Junction in collaboration with ILO and Rapid Asia will hold a public discussion of the report entitled "Public Attitudes towards Migrant Workers in Japan, Malaysia, Singapore, and Thailand".
International migration has become increasingly intense over the past few years, with more and more women and men moving abroad for work. According to the recent study from the International Labour Organization (ILO), it is estimated that in South-East Asia and the Pacific subregion, 11.6 million people are migrant workers, of which 5.2 million are women. At the national level there is growing recognition of the social and economic development potential of labour migration – including contributions in terms of gender equality and economics and societies – is growing in both countries of origin and countries of destination. Some governments, especially in ageing societies, are opening doors to migrant workers and concurrently looking at programmes to support multiculturalism while others are reforming or creating labour laws for domestic workers, applicable to both nationals and migrants.  Yet, the public often views migrants negatively.
To better understand the situation, In 2019, Rapid Asia carried out a major survey on attitudes towards migrant workers in four countries (Japan, Malaysia, Singapore, and Thailand). The study was conducted on behalf of the ILO and UN Women, and it tracks trends of attitudes against a similar study carried out in 2011. The findings indicated respondents in all countries held unfavourable attitudes towards migrant workers and attitudes had also worsened somewhat, with support for migrants declining in 2019.
The study also confirms that public support for migrant workers is primarily driven by the relationships and ties that individuals and communities develop with migrant worker communities. People who know and engage with migrant workers on a personal level are more likely to be supportive of their rights and to assist them in times of crisis. Polarization in views has increased, however, and people with limited or no interaction with migrant workers are less supportive than before. Alarmingly, positive attitudes among respondents who employ migrant domestic workers in their homes have also decreased, and at the same time, the migration experience also tends to be one where migrants are faced with discrimination based on gender, nationality, and other facets of identity.
To further explore these issues, the  panel discussion at SEA Junction will present the main findings and  discuss their implications for societies and migrants in the region.  The panel composition is as follows:
Moderator:
Rosalia Sciortino, IPSR, Mahidol University & SEA Junction
Speakers:
Daniel Lindgren, Founder and Director, Rapid Asia
Andreas Schmidt, Technical Officer, M&E Knowledge Management, ILO Triangle in ASEAN
H.E. Dr. Ratchada Jayagupta Representative of Thailand to the ACWC for Women's Rights (ASEAN Commission on the Promotion and Protection of the Rights of Women and Children) and researcher at the Asian Research Center for Migration (ARCM) at the Institute of Asian Studies, Chulalongkorn University
For those interested the full report can be found here.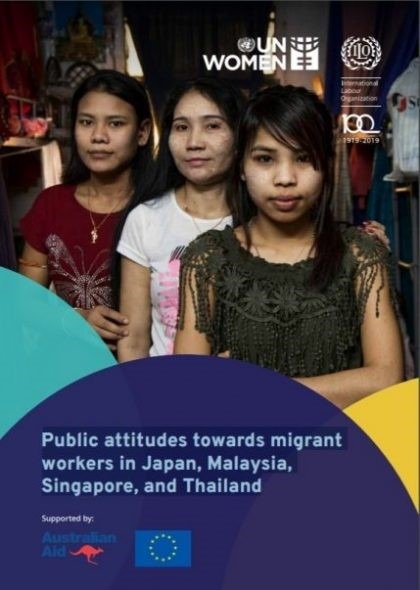 Speakers and Moderator Profiles
Daniel Lindgren is the founder of Rapid Asia, a social research and consulting firm based in Bangkok. Since being founded in 2010, Rapid Asia has carried out multi-country and large-scale national studies in over 30 countries across Asia and beyond, working with several high-profile donors, UN agencies and international NGOs. Rapid Asia has in-depth expertise in several thematic areas such as migration, gender, food security, climate change, human trafficking, health and education. Daniel is originally from Sweden and has lived, worked and studied on four continents including Europe, US, Australia and Asia. He came to Thailand in early 2008 following a 5-year posting in Indonesia. As a member of several regional networks, Daniel is an active member of the social development community with a passion for public speaking and writing blogs. He is also a Board Member of the Thai Swedish Chamber of Commerce.
Andreas Schmidt is a professional in research, monitoring and evaluation. After his master's degree in Asian Politics in 2009, he started working at Lao PDR, where he lived for more than six years. He worked with the UN and other organizations in various capacities analyzing food security and livelihoods and gathering evidence to improve the programme delivery. Since his university studies, he is interested in aspects of labour migration. In 2019, he joined the ILO's TRIANGLE in ASEAN programme which aims to maximize the contribution of labour migration to equitable, inclusive and stable growth in ASEAN. Based at the Regional Office for Asia and Pacific, he currently works with several countries in the region, leading the monitoring, evaluation, and research of the programme. At the moment, he is working on a study to document the migration experiences of migrant workers in ASEAN during COVID-19.
H.E. Dr. Ratchada Jayagupta is a Research Fellow on forced migration specializing in anti-human trafficking at the Institute of Asian Studies in Chulalongkorrn University. She is also the Thailand representative to ACWC, ASEAN. ACWC is an intergovernmental body and an integral part of the ASEAN structure. Ratchada was a National Project Coordinator at United Nations Inter-Agency Project on Human Trafficking (UNIAP-Thailand Office). She was also the international program liaison officer for the Southeast Asian Regional School in Forced Migration (SEARSFM), in collaboration with the Refugee Studies Centre (RSC), University of Oxford and the IASFM (International Association for the Study of Forced Migration) 8th Conference in January 2003, Chiang Mai, Thailand.
Rosalia Sciortino is Associate Professor at the Institute for Population and Social Research (IPSR), Mahidol University, Visiting Professor in the Master in International Development Studies (MAIDS), Chulalongkorn University, and founder and Director of SEA Junction (www.seajunction.org). Formerly, she served as Regional Director for Southeast and East Asia for IDRC in Singapore (2010-2014), Senior Adviser to the Australian Agency for International Development in Indonesia (2009-2010), and Regional Director for Asia of the Rockefeller Foundation (2000-2007) establishing during her tenure the Foundation's Southeast Asia Office in Bangkok. Prior to that, she was program officer Gender, Human Development and Reproductive Health at the Indonesia and Philippines offices of the Ford Foundation from 1993 to 2000.
Partners:
SEA-Junction, Our Venue to Connect on Southeast Asia
SEA-Junction, established under the Thai non-profit Foundation for Southeast Asia Studies (ForSEA), aims to foster understanding and appreciation of Southeast Asia in all its socio-cultural dimensions- from arts and lifestyles to economy and development. Conveniently located at Room 408 of the Bangkok Arts and Culture Center or BACC (across MBK, BTS National Stadium), SEA Junction facilitates public access to knowledge resources and exchanges among students, practitioners and Southeast Asia lovers. For more information see www.seajunction.org, join the Facebook group: http://www.facebook.com/groups/1693058870976440/ and follow us on Twitter and Instagram @seajunction
Rapid Asia Co., Ltd.
Rapid Asia Co., Ltd. was founded in February 2010 and is registered in Thailand. Rapid Asia specializes in social research and monitoring and evaluation (M&E) consulting, helping clients to find evidence for change, whether changes in policy or beneficiary behaviour. Rapid Asia's vision is to help social development clients to achieve sustainable change, anywhere in the world. Change, whether to change policy or beneficiary behaviour, requires evidence. Only clear and convincing evidence can help to push for change or to prove that real change has taken place. The key to our success has been to tackle complex problems by coming up with simple solutions. For more information: www.rapid-asia.com and follow us on LinkedIn, Twitter and Facebook
TRIANGLE in ASEAN & Safe and Fair
TRIANGLE in ASEAN delivers technical assistance and support with the overall goal of maximizing the contribution of labour migration to equitable, inclusive and stable growth in ASEAN. The Programme extends the successful partnerships with the Australian Government Department of Foreign Affairs and Trade and Global Affairs Canada, building on years of working together to improve labour migration governance in the ASEAN region. Safe and Fair: Realizing women migrant workers' rights and opportunities in the ASEAN region is part of the EU-UN Spotlight Initiative to eliminate violence against women and girls, a global, multi-year initiative between the European Union and United Nations. Safe and Fair is implemented through a partnership between the ILO and UN Women, in collaboration with UNODC,  with the overriding objective of ensuring that labour migration is safe and fair for all women in the ASEAN region.
Please note:
* Events are free, but we count on donations in these challenging times!
* In view of COVID-19 measures, place is limited so reservation is required.