Photo credit: WHO
Thailand reported the first cases of COVID-19 on 13 January 2020. Cases were few initially but by mid-March, the situation started to escalate. Rapid Asia has followed how the disease has developed over time and how Thailand has managed to flatten the curve over a relatively short time.     
When tracking COVID-19, the focus was to look at two key indicators: the number of new cases (incidence) and the number of active cases (prevalence), see Figure 1. When following this data, it was noticed that new cases tended to peak at certain times during the week. To highlight the actual trend, a 7-day moving average was used, that is, each data point in the chart shows the average number of cases over the past 7-days. Net active cases represent the number of people still in hospital care and this gives us an idea of how the virus is impacting on the health system in Thailand, which at the peak of the epidemic, in early April, was coping with an additional one and half thousand patients, many of whom needed specialist respiratory care. The chart highlights several key events that occurred between 1 March and 3 May and shows how incidence and prevalence changed as a result.
Over the first 10 days of March there was just one new COVID-19 case per day on average. On 11 March, new cases began to approximately double every 2 days until the prevalence of new cases peaked on 22 March. In response to this, many businesses and public venue were ordered to close. Note that the curve (prevalence) started to flatten almost immediately but the average number of daily cases continued to increase to over 100. On 26 March, Prime Minister Prayut declared a State of Emergency. At this time, some people started to leave Bangkok and spread the virus to other provinces. From 30 March the prevalence curve shows a renewed but smaller buildup in average number of new cases.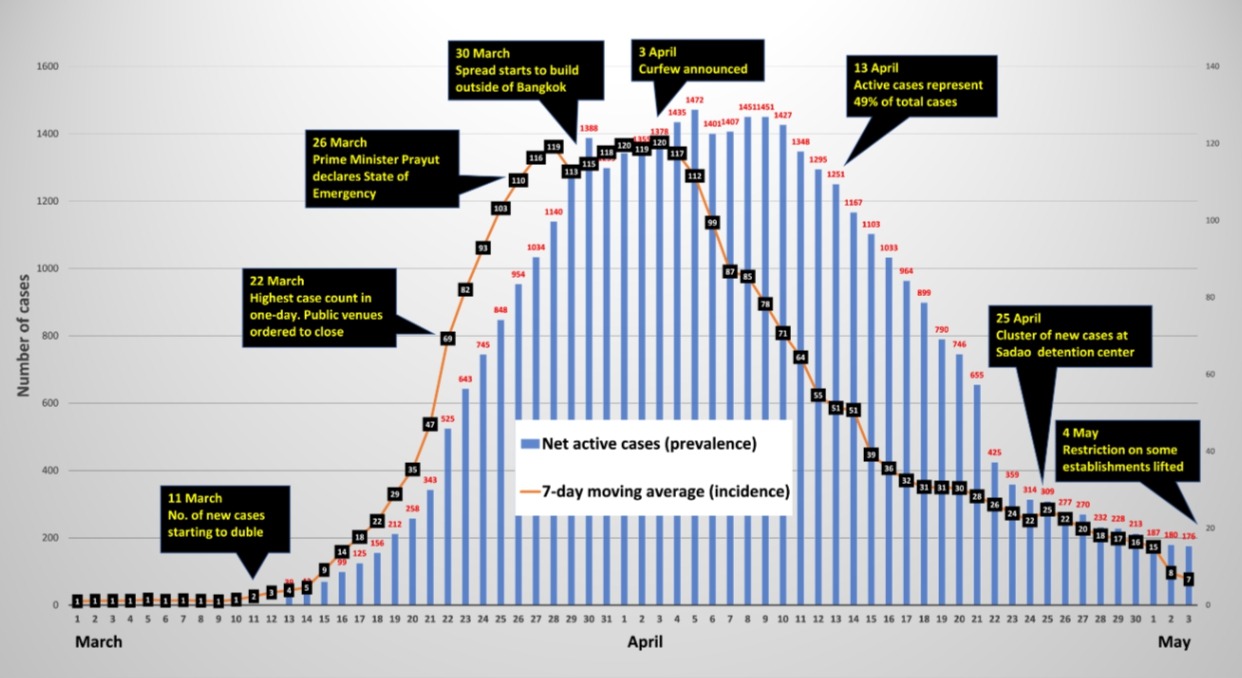 Figure 1: COVID-19 development in Thailand 1 March to 3 May 2020
On 3 April, the Thai Government announced a curfew and imposed a range of measures to deter social gatherings, including banning the sale of alcohol. Active cases continued to increase but after one week, prevalence also started to decline. This is consistent with the World Health Organisation's advice that the average incubation period for the virus is about 5-6 days. As the number of new cases continued to taper off, the number of patients in hospitals continued to decline as well. By 13 April, active cases represented less than 50 percent of all cases recorded in Thailand. From that point on there has been a steady decline in both incidence and prevalence, save for a minor spike on 25 April when a cluster of new cases were discovered at a detention center in Songkhla. As of 3 May, the daily average was down to 7 cases. At this time, recorded deaths stood at 54, less than one person per one million population. Based on these figures it appears that Thailand has managed the virus better than 140 other countries.
On 4 May Thailand started to lift some restrictions. Whilst the curfew and alcohol ban will continue, selected business establishments will open their doors. A potential resurgence in the spread of the virus is of course possible as result of this policy. However, a major difference between the situation now and in early March is that people are more conscious about the risks and are taking protective measures (e.g. wearing masks, regular hand washing, etc.)  Also, the Thai health care system is now better prepared than before the outbreak and has a greater capacity to respond, for example, with more Intensive Care Unit (ICU) beds. We can only hope for the best and that Thailand will be back on its feet sooner rather than later.
If you found this article useful, please remember to 'Like' and share on social media, and/or hit the 'Follow' button to never miss an article. You may also want to read this article: Measuring demand reduction
About the authors:  Daniel Lindgren is the Founder of Rapid Asia Co., Ltd. a management consultancy firm based in Bangkok that specializes in evaluations for programs, projects, social marketing campaigns and other social development initiatives. Dr. Michael Cole is a policy and program evaluator, specializing in international health. Learn more about our work at www.rapid–asia.com.