Photo credit: Rapid Asia
With expanding access to technology—primarily through the use of smartphones—disseminating and sharing information has become increasingly more efficient. This should represent an opportunity when promoting safe migration, but how many migrants have access to smartphones?
Since 2015, Rapid Asia has conducted numerous studies with migrants of behalf of several UN agencies and international NGOs. As part of the communication objective of many programmes, data on ICT usage has been collected. Such basic information helps to determine the potential for reaching migrant workers through social media and disseminate information that can facilitate and foster regular and safer migration practices. It can also help to mitigate the risks of exploitation and human trafficking.
Migration has always been a path towards a more hopeful and successful future for people, but migrants are also vulnerable to exploitation. The rise of digital technology has allowed migrants to access information and stay connected with family and friends. Improved access to information and better connectivity can empower migrants and improve their agency to make smarter and safer decisions. Figure 1 below shows access to smart phones amongst migrant workers surveyed for various projects. Whilst these findings are more indicative than representative, they show that smartphone penetration rates amongst migrant workers may not lag far behind that of the general population, and can potentially be higher in some cases.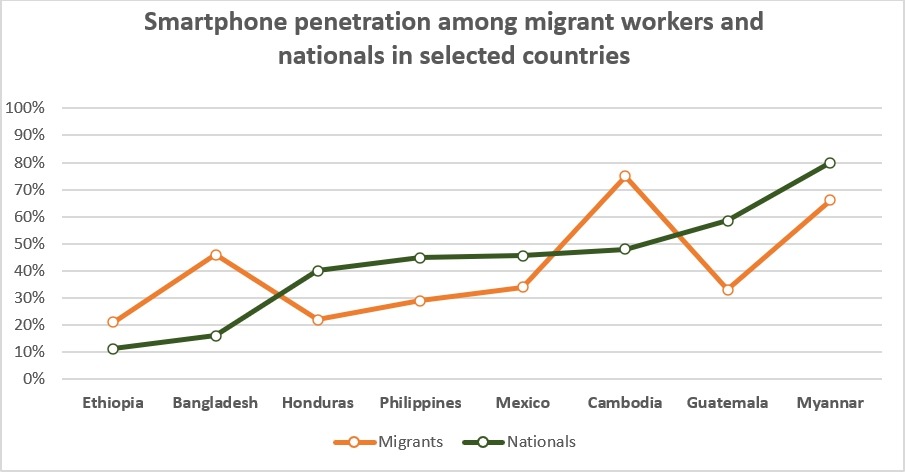 Although access to smartphones remains relatively low for some migrant groups, the penetration of smartphones is expected to continue to grow quite rapidly. It is interesting to note that the penetration of regular mobile phones amongst migrant workers 5 to 10 years ago was very similar to smartphone penetration rates we see here. Prepaid phone credits in small denominations and the ability to buy second-hand devices are common in most countries of origin. This provides cost effective alternatives that many migrants find attractive and affordable.
The potential to use ICT for improved migration governance is already being discussed between governments, social development organization, and other stakeholders. Several platforms have already been developed to create a space for migrant workers to connect and access services. However, the solutions available present a fragmented picture and adoption rates remain low. Migrants continue to put trust in people they know personally and mainly use social media for entertainment and connecting with friends and family. Creating a platform and user experience that truly attracts migrants to willingly join and learn seems to be the next challenge.
If you found this article useful, please remember to 'Like' and share on social media, and/or hit the 'Follow' button to never miss an article. You may also want to read this article: Can e-payments empower migrant workers?
About the author:  Daniel Lindgren is the Founder of Rapid Asia Co., Ltd., a management consultancy firm based in Bangkok that specializes in evaluations for programs, projects, social marketing campaigns and other social development initiatives. Learn more about our work on: www.rapid-asia.com.